This is a ONE Owner vehicle, purchased 1991 from Country Homes Campers in Scotts Valley, California.
Clean, good condition interior and exterior.  Good running rebuilt 4 Cyl 2.1L water cooled engine has only 40K miles since installation July 2006.  Manual 4-speed transmission, 246K total vehicle miles, exterior repainted September 2002.
Aluminum wheels with Michelin XCLT4 radial tires.  Front and back heaters work great for central Oregon winters.  Has factory installed air conditioning, but needs recharging.  Power steering, windows and door locks.
Average mileage over last five years = 19.0 MPG.
Country Homes Campers installed their camper conversion on the factory VW Vanagon which includes the following features: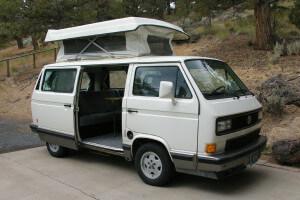 Penthouse Pop Top with zippered screened windows sleeps two children or one adult comfortably (or serves as an overnight storage area)
Double bed for sleeping two adults
Built-in two burner propane stove
Electric refrigerator runs on its own 12V battery isolated from car battery or on external 110V AC Power
Ten gallon fresh water tank, stainless steel sink and electric pump and faucet
Wardrobe closet, two shelf storage area with mirror, and additional storage bin behind sink
Fold away, removable formica dining table
Portable flush potty in hinge topped case that doubles as a sitting bench
Additional storage areas beneath rear bench seat and both front seats
Fire extinguisher
Basic set of pots and pans, silverware, clean fill hose and nozzle to fill water tank, and AC power cord
Set of four NEW Nokia Hakkapelitta studless snow tires (made in Finland) mounted on steel wheels (used only 1 winter)
Set of tire chains
SOLD!
Location: Tumalo, OR